The Ultimate Wealth-Building
Strategy for Uncertain Times
Total return of 722% since 2007
(Even including the 2008 crash!)
Turns $200,000 into $1.6 million
Beats Warren Buffett's Berkshire Hathaway by 4.8 to 1
Outperforms S&P 500 by a whopping 5.8 to 1
Gives investors an average total return of

67.2%

PER YEAR!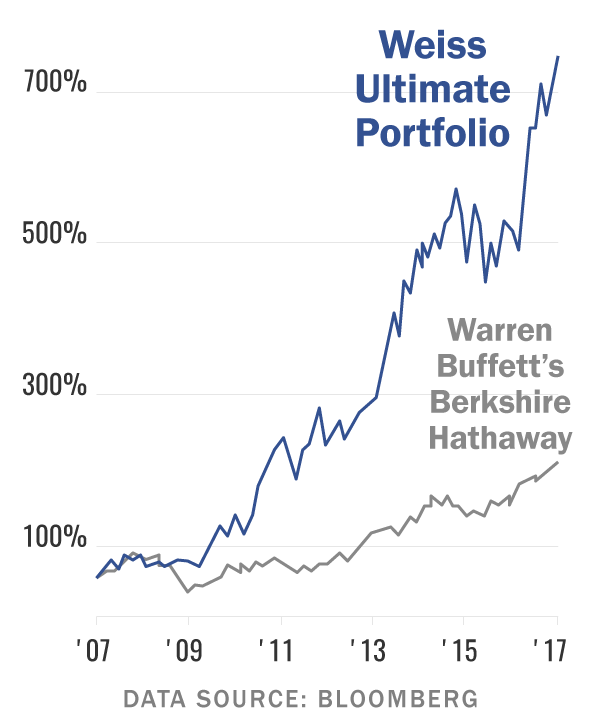 Dear Fellow Investor,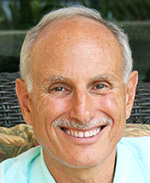 I'm 71 years old, and they say I should be retiring to enjoy the fruits of my 46 years since I founded my research company.
But what I see happening over the next five years troubles me deeply.
Never before in my lifetime have I seen more powerful historic cycles converging in one time in place, creating a tidal wave of change that will continue until 2023.
Never before have I seen such a rapid — and massive — shift in global politics and in global money flows, also set to continue until 2023!
My life goal is to help investors build their wealth safely precisely in times like these. It's way too soon for me to retire.
Moreover, for the U.S. markets, the situation today is a godsend.
Money is gushing in torrents from the world's trouble spots to the world's safest safe havens, especially the United States.
Investors are not just running away from danger. They are also running toward the highest QUALITY investments in the world, again, especially in the United States.
This is precisely what we've been predicting. And helping investors profit from this kind of situation is exactly what has made my company, Weiss Ratings, famous.
The New York Times wrote that Weiss Ratings was "the first to see the dangers and say so unambiguously."
And the Wall Street Journal reported that Weiss Ratings ranked #1 in performance, beating ALL major research firms on and off Wall Street.
Why? Because we are the only ones who identify the truly BEST of the BEST investments in good times and bad.
We are the only ones who have cracked the code to give you the ultimate combination of profits AND safety.
And, for the next five years, that's exactly what global investors are going to continue seeking.
It's also what I buy for my own portfolio. I buy today what they will be buying tomorrow. I beat them to the punch — consistently, month after month, year after year.
Some people call our portfolio a retirement miracle.
Others say it's the investment breakthrough of the century.
I call it simply the Weiss Ultimate Portfolio.
The results:
Following the Weiss Ultimate Portfolio, you could have …
Earned a 722% total return since 2007 *
Beat Warren Buffett's Berkshire Hathaway by 4.8 to 1
Outperformed the S&P 500 by a whopping 5.8 to 1
Made an average total return of 67.2% PER YEAR!
All during a period that included the worst stock market crash and recession of our lifetime!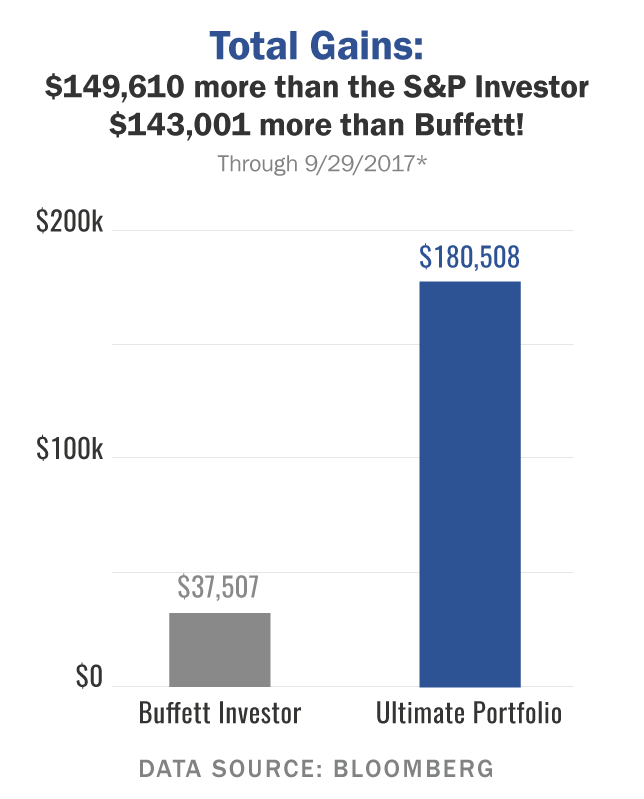 Let's say you started with $25,000.
If you bought shares in Warren Buffett's Berkshire Hathaway you'd have about $37,507 in profits today. Not bad.
But if you used the same $25,000 to follow our ultimate portfolio, you could have a gain of $180,508. Far, FAR better.
This portfolio strategy is completely suitable for IRAs and retirement accounts. It's for your core savings and capital — not just for "play money."
So what if you invested $500,000? Then, you'd have ...
$4.1 Million in Your Account
(as of September 31, 2017; and even more right now)
Now can you see why our ultimate portfolio is a major investment breakthrough?
Plus, here's another breakthrough: Unlike the stock market averages, unlike Berkshire Hathaway, and unlike nearly every other investment in the world, our Ultimate Portfolio could have helped you do all this WITHOUT the painful losses that investors suffered during the market decline of 2008.
Of course, no investment strategy in the world is perfect.
There are some periods of declines along the way. But those corrective periods are short and shallow — far smaller than those we've seen in the S&P or Berkshire Hathaway.
In our worst year, 2008 — in the depths of the most severe recession since the Great Depression — our model portfolio was down only 6.1%.
In the same year, Warren Buffett's Berkshire Hathaway was down 32.1%. So our loss was FIVE times smaller than Buffett's.
On the flip side, our total average return for the entire period, including the Great Recession, was a POSITIVE 67.2 percent PER YEAR, five times larger than Buffett's.
Let me repeat that: Our one losing year was five times smaller; our average for the entire period was nearly five times LARGER.
Your Ultimate Solution to the Greatest
Investment Dilemma of Our Time
Let's say you're planning for your retirement or already retired.
And let's say you have a nest-egg of $500,000.
Even if you could find a bank that gives you 2% interest, all you'd get each year is $10,000.
So you ask yourself: "How the heck do I pay the mortgage and buy food with $10,000?!" It's impossible.
"And what happens if I need a couple of MRIs that Medicare won't cover?" Poof! All your income would be gone!
So you consider a high-risk strategy of some kind, and you get caught in a big decline. If it's anything like what happened in 2008, suddenly, it's not just your income that suffers. It's your principal — gutted in half.
NOW, shell-shocked by the decline and with half your principal gone, what happens if you go back to the 2% solution? How long is it going to take you to recoup your principal?
Just do the arithmetic: You have $250,000 left. And you're back to making 2%, or only $5,000 per year.
At that rate, it will take you FIFTY years to get back to break-even!
This is the great dilemma of our times. The only true solution is something that gets you away from these absurd choices of ridiculous low yield or ridiculous high risk.
That's what our Ultimate Portfolio does. It gives you …
MUCH more growth (67.2% average per year) with
A lot LESS risk (only 6.1% decline in our worst year).
I'm very proud of this achievement.
I am so confident in its wealth-building power, I am investing my own retirement money in this portfolio.
I have hand-picked my good friend and award-winning financial analyst, Tony Sagami, to implement the strategy.
And I am standing behind the Weiss Ultimate Portfolio with the ultimate guarantee. (More on my guarantee in a moment.)
Here's what happens when you
join our Ultimate Portfolio ...
Almost immediately, you will receive our manual, which tells you precisely how to take full advantage of our service.
It's actually very simple. You have virtually no work to do. But we still feel it's very important for you to understand all the ins and outs.
Then, simply check your inbox every Friday afternoon for your Market Alert. We'll tell you in easy-to-follow, plain English what to buy or what to sell. This gives you the FREEDOM to enjoy your life.
From that moment point forward, you get world-beating performance. Following our Ultimate Portfolio strategy, you could have earned a 722% total return since 2007. That's enough to multiply your money more than eight times over.
You get solid protection and even profits in bear markets: This alone can make the difference between a miserable, stressful retirement and truly enjoying the fruits of your labor!
You get my personal commitment all the way: I personally designed this strategy based on 15 years of real-time experience with our Weiss Ratings, my father's 60 years of stock analysis experience. I am in charge of overseeing implementation of the strategy and am personally investing my own money as well.
You get Tony Sagami, the award-winning analyst I hand-picked to implement our strategy. Mr. Sagami is the mathematical genius who originally developed a computer model that has helped make our outstanding track record possible. He was twice named "Portfolio Manager of the Year" by Thompson Financial.
He has been quoted on these markets in every major financial publication — The Wall Street Journal, Barron's, Kiplinger's, Smart Money, Business Week, New York Times, Washington Post, Investor's Business Daily, Bloomberg, and many more.
He's one of the most successful analysts and traders I know. I cannot think of a better person to entrust my own retirement funds to.
Plus, you get a program that's suitable for your life savings, including IRAs and other retirement accounts: The Ultimate Portfolio is not designed for speculative funds or "play money." It's for your core funds. We never use options or futures. We invest strictly in solid, liquid, stocks and exchange-traded funds (ETFs).
Or call TOLL-FREE 1-877-934-7778
(Overseas, call 1-561-627-3300)
Save $10,103 by joining now!
Normally, two years of Weiss Ultimate Portfolio is $5,000. But with your special discount privileges, it's only $2,397. And that's just the beginning of the savings you reap, thanks to ...
My gift to you: Three EXTRA years FREE!
To make sure you can take FULL advantage of the next half-decade of historic investment opportunity, I will pay for you to receive three MORE years — a $7,500 value — FREE.
Add it all up and it means you save a total of $10,103 in breaks just for joining now!
You get FIVE full years of Weiss Ultimate Portfolio — all the time you need to protect and grow your money through the end of 2023.
The fact that you're covered for the next five years is absolutely essential ... I believe that, because of our leaders' addiction to debt, the next five years will be a roller-coaster ride through Hell. A massive money tsunami will flood U.S. markets, driving U.S. markets higher and higher. But soon, our own Judgement Day comes.
Major indices like the Dow and S&P could drop by 50% or more. Everyone with a 401(k), pension, or only invest in index funds could see their wealth and retirement slashed in half.
To protect you from that grim fate is precisely why I created the Weiss Ultimate Portfolio.
The Weiss Ultimate Portfolio is designed to keep your core wealth intact and growing, no matter what.
Your Weiss Ultimate Portfolio is a mere $1.31 cents per day — less than one gallon of regular gasoline.
You get the cream-of-the-crop investments in an ultimate portfolio that gives you the ideal combination of safety and growth.
You get five years of "Buy" and "Sell" signals designed to multiply your money nearly five times faster than Warren Buffett's Berkshire Hathaway.
And with these deep discounts, your very first profitable trade could easily pay for your entire membership many times over! CLICK HERE to reap these huge savings before they expire.
My 100%, Unconditional, Anytime Guarantee
I am so confident in the profit potential of my portfolio and the robust strength of the model it's based on, I am willing to put my money behind it in two ways:
First, I am investing my own funds alongside you, always giving you time to buy or sell before I do.
And second, I am offering you the strongest guarantee possible:
Go for all the profits you like for as long as you like.

If, at any time during your membership period, you are not satisfied for any reason whatsoever, just let me know. I will personally make sure you get 100% of the unused balance of your membership fee returned to you right away.
As you consider your decision, please remember: this is the only strategy I know that could have handed you 722% returns since 2007 — enough to ...
Multiply your money more than eight times over ...
Beat Warren Buffett's Berkshire Hathaway by nearly FIVE to one
Beat the average S&P 500 stock by almost SIX to one.
Deliver average yearly returns of 67.2%
Turn every $25,000 invested into $205,580 ... every $100,000 into $822,000 ... and every $500,000 into $4.1 million.
During a period that includes the great market crash of 2008 and the Great Recession of 2009!
Remember: You are risking virtually nothing by joining me now. You must be thrilled with the money you make or you can cancel any time for a full 100% refund of the balance your membership fee.
Click here to join while we're still accepting new members, and I'll pay for three years of your five-year membership. Then, just follow our recommendations for the next few weeks, the next few months, or even for a full year or more.
In the unlikely event that you decide Weiss Ultimate Portfolio isn't right for you, just let us know any time and I'll promptly send you our Anytime Refund.
And also remember this: I have personally designed the Weiss Ultimate Portfolio to give you …
The ULTIMATE in quality investments — only our highest-rated stocks and ETFs in the world …
The ULTIMATE in protection against bear markets …
The ULTIMATE in liquidity — only investments that are easy to buy or sell almost instantly.
And the ULTIMATE in performance — enough to grow your wealth at an annual pace of 67.2% per year!
Or call TOLL-FREE 1-877-934-7778
(Overseas, call 1-561-627-3300)
IMPORTANT:
Your Discount Pricing and
Your ONLY opportunity to SAVE $10,103
EXPIRES soon
Remember: These heavily discounted rates are ONLY available to you for a limited amount of time. If you join after that, the membership fee will be substantially larger.
We want to help you preserve the wealth you have now; to keep it intact in the difficult days ahead.
Plus, we want to help you amass enough additional wealth to make sure you and your loved ones are able to get through the tumultuous years ahead in comfort and safety.
Or call TOLL-FREE 1-877-934-7778
(Overseas, call 1-561-627-3300)
Good luck and God bless!
Martin D. Weiss, PhD
Founder, Weiss Ratings
P.S. For more information, click on these handy navigation buttons:
Home Track Record Benefits Join Now Legacy FAQs Reviews Editor Videos