Make Your Money
SAFE

Again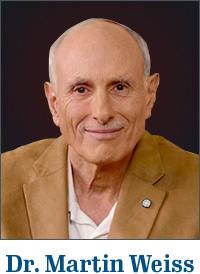 Dr. Martin Weiss here, glad to see you made it to this spot.
Fed Control is right around the corner.
And now is the ideal time for you to prepare.
They will have the power to tighten the noose around your money and your ability to invest and grow wealth.
As you've learned, Docket No. OP – 1670 has revealed their plan. They will have the power to punish you with fees and fines …
Or even seize control of your money …
If … you do something as simple as buy too much gas or support the wrong political candidate.
This is not something to merely keep in the back of your mind.
You must act NOW.
Fortunately, if you make the right moves, you can protect your savings and even build wealth.
Safe Money Report has been guiding investors to do that for over 40 years.
We predicted bank failures before the 2008 meltdown with a stunning 99.8% accuracy …
But we're not all about doom and gloom. In addition to doing everything we can to protect our members from collapses …
… We also guide them to the wealth-building upside.
The Wall Street Journal reported that our stock ratings outperformed the ratings issued by Merrill Lynch … JPMorgan Chase … Deutsche Bank … and every other research organization covered.
Since 2004, the average gain for stocks we upgraded to "Buy" has been 794%. That's the average.
We've also had bigger winners, like when we upgraded Apple to a "Buy" on Sept. 27, 2004. Since then, it has delivered investors gains of 24,115%, multiplying an initial investment by 242x.
That's another big reason I think this is the ideal time to take advantage of my offer.
Make Your Money Safe Again


Shows You How to Protect and
Grow Your Wealth …

While also keeping it safe from Fed Control, surveillance or confiscation.

To do this, you must know what steps to take.

That's why I've arranged for you to receive absolutely all the benefits you just learned about.
Benefit #1
Our four extremely timely bonus reports that you can download instantly today.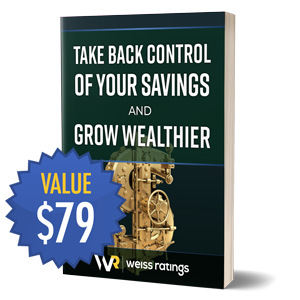 Take Back Control of Your Savings and Grow Wealthier (sold separately for $79)
This new report will show you how to …
Dodge the Federal Reserve's control: keep your savings safe and secure.
Legally protect your savings: discover the hidden pockets of safety that are off the grid.
Increase your nest egg: get the same kind of signals that historically could have guided investors to average gains of 794%.
Get back control:I think you'll be relieved and relaxed as you learn how to handle our country's challenges.
I'm confident that creating your "off-the-grid" portfolio now will protect you from what could be a growing government surveillance state.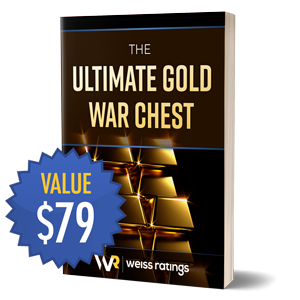 The Ultimate Gold War Chest (sold separately for $79)
Gold has been a safe haven for over 5,000 years … but obtaining gold for yourself these days can be tricky.
What's the best way to buy it? Where? How much? What are the biggest scams to avoid? What other precious metals should you have? This report will deliver the answers.
You'll also discover the Gold Confiscation Loophole, which will show you how to own gold yet avoid government confiscation.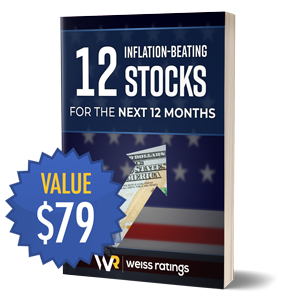 12 Inflation-Beating Stocks for the Next 12 Months (sold separately for $79)
Despite any temporary ebbs and flows, we're moving into an era of record-setting inflation. It's already eroding your savings and, despite anything Biden & Company might say … we predict inflation will continue.
… Fortunately, you have options that are a lot better than just watching passively as the purchasing power of your money sinks. In past market conditions that were very similar to what we're facing today … a certain way to invest brought in 90% of the returns.
Even better news:
You can still use this simple investment strategy today.
We show you exactly what this strategy is … including 12 stocks you can buy today that fit this strategy hand in glove.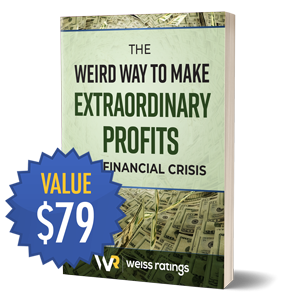 The Weird Way to Make Extraordinary Profits in a Financial Crisis (sold separately for $79)
This report reveals a simple technique to make outstanding profits, even in a market crash.
And, NO, this has nothing to do with shorting stocks or options.
Nor am I talking about Bitcoin …
But I do suggest one thing …
It's OK to warn your friends and neighbors about how bad things are going to get … and of course it's good to advise people to hold some gold …
But THIS report?
You might want to keep it to yourself and your loved ones.
PLUS, by joining me today, you get:
Benefit #2
A full year of our monthly newsletter, Safe Money Report (normally $129).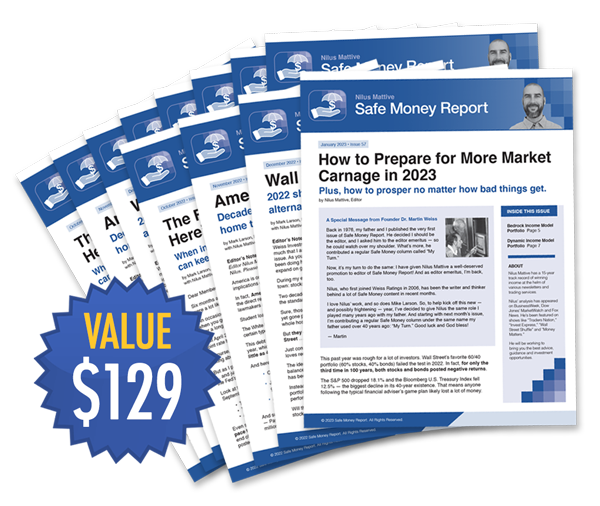 With each issue you'll learn …
Which sectors of the market to avoid like the plague as the crisis gets worse, and …
Which sectors to zero in on so you can look back upon this day as the time when your nest egg began to grow, grow and grow.
Precious metals strategies designed to keep your wealth safe no matter what happens.
And, Safe Moneycovers more than just stocks. You'll also discover the best way to protect and grow your 401(k) and IRA and all the investment it contains. We'll even cover how to build wealth with real estate.
From my 50 years of investing, I can assure you there is always a way to win and get wealthy no matter what the markets may be doing.
Our mission is to always find that way.
Benefit #3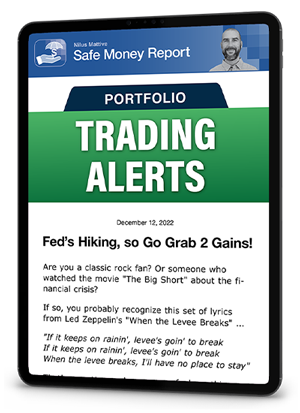 Our Safe Money Model Portfolio with on-the-spot trade alerts as needed.
We want to make sure you know exactly which stocks to buy, and equally important, which ones to sell.
… You also get warnings about threats to your savings and retirement. We've warned readers about public companies, We also alert you to the best-of-the-best stocks based on our ratings … the same kind of intelligence that gave readers the opportunity to increase their wealth 794%.
Benefit #4
One year of premium access to our 53,000 Weiss ratings (sold separately for $228).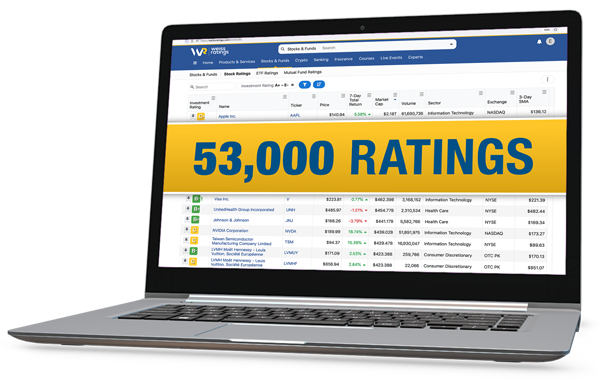 Use our Weiss ratings to check the safety of your bank or credit union. These are the ratings that warned in advance about the bank failures of the Great Financial Crisis with 99.8% accuracy.
Use our Weiss ratings on 3,600 insurance companies to check the safety of your insurer. These are the ratings that, according to a study by the U.S. Government Accountability Office, were three times more accurate than those of the nation's "leading" insurance rating agency.
Use our Weiss ratings on over 10,000 stocks, ETFs and mutual funds to decide which investments to buy, sell or hold – and when.
Use our Weiss ratings on over 1,000 digital assets to avoid the garbage and invest exclusively in the best of the best.
Create an unlimited number of watchlists. As soon as there's a downgrade or upgrade, you will get an alert via email, SMS or Telegram.
Benefit #5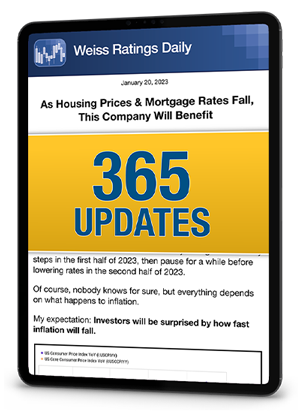 Our Weiss Ratings Daily alerts.
Timely updates on all of the above in your inbox every morning, seven days a week. (Also available via SMS and Telegram.)
You get all five of these great benefits with your risk-free trial membership to Safe Money Report.
That's a total value of $673!
But because you landed on this page, you can get it all for much less …
Get Everything for Just
$49
That's right. Bought separately, everything included in your Safe Money membership would cost $673.
However, when you claim your membership today, you won't have to invest anything close to that.
You can get everything for just $49.
Once you do, you'll be emailed a special link to download all your reports. You'll get immediate access to my ratings lists, too.
Then, as they are published, you'll receive your copies of each and every Safe Money newsletter.
I'm also making sure you are completely satisfied with everything you receive. That's why …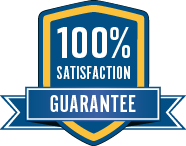 I'm Offering a 100%
Satisfaction Guarantee
I am giving you a full year to review everything you get in your entire Safe Money membership package …
You will have 365 days to dive into the four special reports you can download today … the 12 Safe Money issues you'll receive … the 53,000 Weiss ratings you can access 24/7 for the year … the 365 daily updates you receive … and much, much more.
If you're not happy, for any reason, with your membership, simply contact my customer service team and you'll receive a prompt refund of every penny.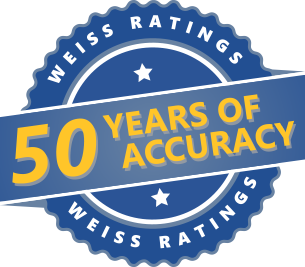 What about all the special reports and issues you've received by then? They're yours to keep no matter what.
I'm comfortable taking all the risk because I'm sure you're going to be thrilled with what you receive.
Simply fill out the secure order form above to get started.