Here's Everything I'll Receive:
Our Crisis Profit Trader gives you nine enormous benefits: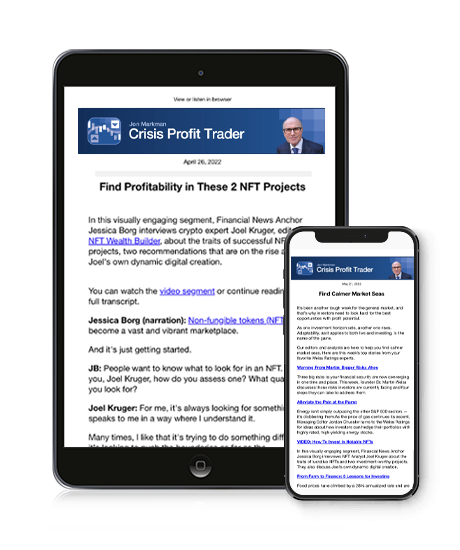 Benefit #1. 52 weeks of Crisis Profit Trader recommendations at 50% off. In the past, we sold thousands of memberships for similar services for $5,000 per year. But with this offer, the cost is $2,500 per year, or 50% off.
And depending on how much you invest, just one of the AVERAGE trades from a single day could pay for an entire year of the service.
Benefit #2. $10,000 into $100,000. A detailed explanation of the remarkable investments that could turn $10,000 into $100,000 in a single crash day (even if it was only the fourth best trade that we identified).
Benefit #3. Continuing instant access to the most current Weiss Ratings Endangered Lists. Look up your stock, exchange-traded fund (ETF) or mutual fund to make sure they're not in danger. Then, USE this to help improve your profit performance. As a Crisis Profit Trader Member, you'll know when these companies are most vulnerable before nearly all other investors.
Benefit #4. Get started fast with these "BUY NOW" recommendations. Similar option setups in March and April could have handed investors 62 trades ranging from 100% to even 1,130% and more in as little as one day!
Benefit #5. EXACT recommendations for what to buy, when to buy, and when to sell for maximum gains and minimum risk Each recommendation will come with word-for-word instructions for entering the trade into your account, should you choose to do so.
Benefit #6. You won't need more than a few minutes per week to execute this strategy! Thanks to our proprietary system and deep-dive analytics, you don't have to waste time. We'll tell you exactly which options to buy, at what price and when. Equally important, we'll tell you when to sell to help maximize gains and minimize losses. Options are volatile investments, and losses are entirely possible. But with the purchase of options, you can never lose more than you invest.
Benefit #7. Opportunities to make money when the markets tank … AND when they explode to the upside! Our Weiss Ratings and analytics also identify stocks we believe are poised to jump with the next rally. For example, when a stock rises 5% or 10%, their call options could rise 50% or even 100%.
Benefit #8. Save $2,500 right now and every year you renew. You pay only $2,500 for your one-year membership, locking in this big 50% discount for as long as you remain a Member. Before your membership is coming up for renewal, we'll let you know, give you plenty of time to cancel and then bill your credit card at the same discounted $2,500 rate. (You can opt out of this auto-renew feature any time.)
Benefit #9. Make 10 times your money in your first year or get a second year free. No one can guarantee performance. But after your first year of trades, if you can't make 10 times your money by following the trading recommendations in Crisis Profit Trader, let us know, and we'll give you a second year free, worth $5,000. That's like a $5,000 credit to your account!
To claim your 50% discount and your spot inside Crisis Profit Trader right now …
Call 877-934-7778 (Overseas callers: +1-561-627-3300) Monday through Friday, between 9 AM and 5 PM Eastern Time.